Print is Back and It's Here To Stay
Order the NEXT PRINT Issue shipping out November 7 (Dec Issue) – Order early and $ave
Order the July Print Issue #1 (Shipping now) – Order now $2 off cover price
Subscribe to all FOUR 2017 PRINT Issues – Order now and $9 off cover price
Order the August 10th PRINT Issue (Sept Issue) – Pre-Order now and save $2 – buy ONE copy get THREE (limited time)
Order our 2016 Fall PRINT Edition (back issue shipping now) – Order now $3 off cover price
Order the 3-Pack (Fall 2015, Fall 2016, July 2017) – Order now and we'll pay the shipping!
Special Issues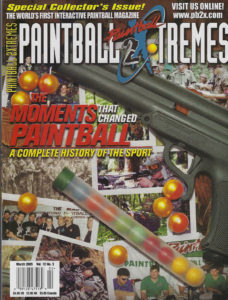 Own A Piece of Paintball History: We are making available 50 copies of this RARE 2005 History of Paintball Special Edition 162 page magazine from Paintball 2Xtremes. It's an amazing, documented, beautifully presented history of the first 24 years of the game of paintball. – Order Now, Shipping now – we have already sold more than 20
We are excited to announce our PRINT (and digital) release schedule for 2017.
April 18: Digital Magazine #1
May 25: Digital Magazine #2
July Issue: Print Magazine #1 (SHIPPING NOW)
July 25: Digital Magazine #3
August 10: Print Magazine #2 
September 25 Digital Magazine #4
October 10 Print Magazine #3
November 22 Print Magazine #4
December 15 Digital Magazine #5
All subscriptions and individual PRINT magazine orders will be sent via USPS Priority Mail so you will have your copy before it hits the newsstands and stores.