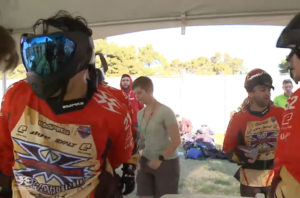 1PM Local time: ac: Dallas just put it on the Los Angeles Ironmen, beating them 8-1 and it was not as close as the score indicates. San Dieso Dynasty also just took care of business against Seattle Thunder 3-1. The Russians came back big time after their earlier loss beating Boom 9-2.  San Antonio X-Factor beat PC Katana 8-1. X-Factor is sizzling hot as is San Diego Dynasty.
10:AM Local Time: It's been an interesting morning in Las Vegas already. San Antonio X-Factor came out smoking against the Russian Legion, going up 5-1 but the Russians battled back to get it to within 2 points. But X-Factor turned their game back up to finish off the match 9-4. Archie Montemayor was on fire (as always) with 6 kills in the first 4 points. On the other side of the split deck it was PC Katana battling Boom and what a game this one was. It was literally back and fourth point after point until PC Katana won the game in OT. It was the fist match PC Katana has ever played in the pro division – and a big first win.
The second split deck in the pro bracket has San Diego facing off against ac: Dallas and the Los Angels Ironmen versus Seattle Thunder. Dynasty got off to a 2-0 start in this one and never looked back. The final score was 6-1 Dynasty over ac: Dallas. The Ironmen off to a 2-0 start versus Thunder but after 5 points played hung onto a 3-2 lead. They would pull away and win the game 5-2.
Watch every pro point played LIVE at www.GoSports.com.
Official NXL Las Vegas Open Scoreboard: https://paintball-players.org/scores/L316/E5174/scores/index.html