Valken continues to bring new products into their lineup as the holidays approach, and some of the most exciting are their new packs. Not a single pack, or even a single line of packs, mind you, but two new lines of packs are either in-stock and selling now, or on their way and should be here soon! Offering a great look and impressive features at a price that's we had to check twice to be sure it wasn't a mistake, the Valken Alpha4 line of packs and the Valken Fate GFX harnesses offer style, comfort and ball-hauling capability at an amazing price from a name that keeps right on spending money back into the game and industry through uncertain times.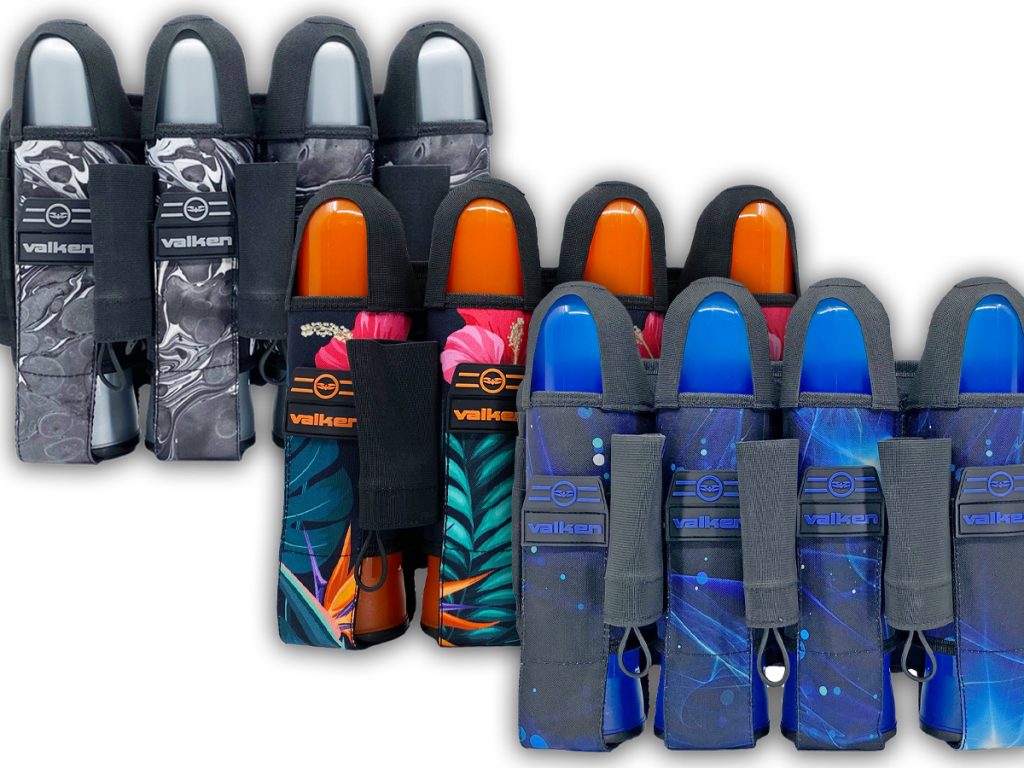 Valken Alpha4 Harness
Most people who spend twenty bucks on paintball equipment are generally met with something entry level, or something that might look a little higher end but may not be able to stand up to the rigors of the modern game. That's changed, now, thanks to the addition of the Valken Alpha4 harness to the paintball world. A modern-looking paintball tournament-style paintball harness or pod pack (or whatever else you want to call it), holding four pods vertically, the Valken Alpha4 features an adjustable, tournament-style hook-and-loop belt that wraps around the player to minimize bounce while running or moving, an airmesh back pad behind the pods, and each strap pushes pods out with elastic ejectors. Looking sharp and offered in basic black to go with any paintball uniform, along with a little green, red, blue or grey accent, by far the best feature of the Valken Alpha4 paintball pack is its price – $19.95.
Valken Fate GFX Harness
As nice as the Alpha4 paintball harness might be – especially for its price – some players may still want something a little more full-featured from their paintball pod pack and Valken has an answer there as well, the Valken Fate GFX line. A more traditional tournament-style paintball pod pack offering 4+3 capacity for a total of seven 140 round pods (four in straps with flaps and elastic ejectors and a further three in exteneral loops in-between), the Fate GFX offers printed styles that look like nothing else in the game! Available in a very "Magnum PI" looking Hawaiian Flowers print, the patriotic American red, white and blue with stars and stripes, a very interesting Green Plants, a cosmic-looking Plasma Blue or the Terminator T1000-looking Liquid Silver, the Valken Fate GFX harness line all feature fully adjustable hook-and-loop, wrap-around comfort belts and the graphics are sublimated so they won't fade or flake. Again, Valken brought is bringing these packs to market at an impressive price, offering all this at $29.95 – enough to let a player buy the pack, get a bag full of pods, and even have enough leftover to fill the pods with paintballs like Valken Graffiti or Redmeptio Pro and hit the field!
Well-made, crammed full of features and hitting the market at very impressive prices, the new line of Valken packs, including the Alpha4 and the Fate GFX, are likely to be big hits especially as they're landing just in time for cool weather Fall play and the Holiday season. Visit the new Valken website online at www.Valken.com to see the full line of Valken paintball products including the Fate GFX and the Alpha4!